SATO aims to become a global solutions provider that contributes towards a better and more sustainable world. We strive to live up to our Credo of sharing the returns of our business with the society and other stakeholders because we believe we are responsible for the society and environment we live in.
Besides addressing societal and environmental concerns for customers through our main business, we work actively with different government bodies, welfare associations and companies in various activities to fulfill our corporate social responsibility.

Here are some of the recent CSR efforts and contributions from the Asia Pacific region: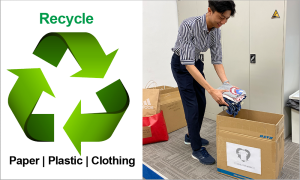 1.Waste Recycling Program
October 2019 onwards, Singapore
Waste has a huge negative impact on our natural environment and resources. By recycling, we can reduce the amount of waste sent to landfills and conserve natural resources such as wood and water to help our environment.
To do our part for the environment, a dedicated team from SATO offices in Singapore has come together to organise a recycling program to collect old and unwanted paper, plastic products and clothing items for recycling.
The program started at the beginning of October and received tremendous response from all staff members. Within a month, we have collected 44kg of paper, plastic and clothing items for recycling.
---
2. Mangrove Tree Planting
28 November 2019, Indonesia
PT. Megalopolis Manunggal Industrial Development (MMID) is the developer of MM2100 Industrial Town, a fully integrated industrial estate established in 1990 in which PT SATO Label Solutions is located in. As one of their environmental CSR initiatives, PT. MMID invited tenants of the MM2100 Industrial Town to participate in mangrove tree planting.
On 28 November 2019, a group of staff members from PT. SATO Label Solutions participated in the Mangrove Tree Planting activity. A total of 12,230 trees were planted in Pantai Bahagia, Muara Gembong, Bekasi Regency – an area that is affected by seawater flooding (also known locally as rob) almost every night.
---
3. Tree Planting 2019
26 October 2019, Singapore
Trees are important to our environment in many ways including providing oxygen, improving air quality and supporting wildlife.
46 staff and family members from SATO's subsidiaries in Singapore participated in the annual Tree Planting activity at East Coast Park, Singapore.
In total, 10 new trees were planted through this activity.
---
4. International Coastal Cleanup Singapore 2019
12 October 2019, Singapore
45 staff and family members of SATO Asia Pacific (Singapore sales office) and SATO Global Business Services gathered at East Coast Park, Singapore for the annual International Coastal Cleanup to clear marine debris along the beach.
In addition to approximately 6kg of debris, data for use in creating a debris-free society was also collected during the cleanup.
1. Blood Donation Drive
3 March 2023, Malaysia
SATO Malaysia Electronics Manufacturing Sdn. Bhd. (Factory) & SATO Auto ID Malaysia Sdn. Bhd. (Sales Office) collaborated with Pusat Darah Negara (PDN) to carry out a blood donation drive at SATO's factory premises on 3 March.
SATO Malaysia had been conducting blood donation drives annually for the past decade as part of their efforts to contribute to the society.
This year's event continued to receive great response with more than 100 SATO staff volunteering to donate their blood.
Blood donation is voluntary and non-remunerated. While the donating of blood may boost the health or emotional well-being of the donor, more importantly, donated blood save lives in times of emergencies and sustain lives of people with medical conditions that require blood transfusions.
---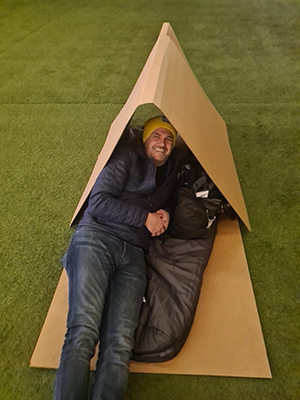 2. St Vinnies CEO Sleepout
23 June 2022, Australia
The St Vinnies CEO Sleepout is an amazing event that runs annually whereby leaders in business, community and government sleep without shelter on one of the longest nights of the year to help change the lives of Australians experiencing homelessness.
This year SATO Australia's MD Chris Powell put his hand up to participate in this great cause, allowing SATO to do our part to contribute to changing the lives of many Australians experiencing homelessness. Chris slept outside alongside many other business alumni with only a sleeping bag, a cardboard box and a simple meal of soup. Due to Chris's efforts and thanks to many generous donations, SATO was able to raise $6,061 for this incredible cause!
---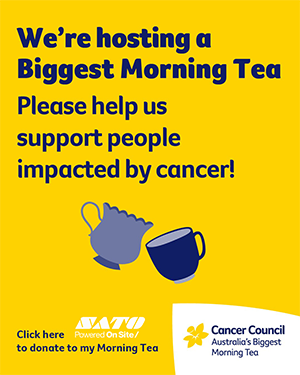 3. Australia's Biggest Morning Tea
23 June 2022, Australia
Every year in May, Australians all over the country come together to put on their own versions of Australia's Biggest Morning Tea. Gatherings big and small are headlined by delicious morning tea items, homemade by those only asking for a donation in return. These donations to the Cancer Council will raise vital funds to make a big difference for those impacted by cancer.
This year, the team at SAU worked hard to put together an incredible event, which we dubbed "SATO's Biggest Morning Tea". All staff were great contributors on the day and many people brought delicious snacks and morning tea items to share.
But most importantly, everyone brought their generosity with $271.55 raised by all staff for the Cancer Council, with this amount to be matched in donation by SAU as well. We would like to say a massive thank you to everyone involved on the day, and that we hope our efforts are able to make a difference in the lives of those impacted by cancer.
---
4. Reading Room Setup and Donation for Taishan Primary School, Hubei
June 2019, Hubei, China
"Children are the world's most valuable resource and its best hope for the future" – John F. Kennedy
With the teamwork and effort from all employees, SATO Shanghai donated 1,000 books as well as furniture such as book shelves, study table and chairs to Taishan Primary School. We successfully helped the school establish their very first reading room which will benefit 40 students of the school.
---